New Shoes
October 27, 2009
when i woke up this morning,
i felt today was all wrong,
and even though i put on a shirt
and some jeans that looked clean,
something in my sole told me
to just go back to bed,
but i wanted to feel real good today,
so i went out on the streets
in the early morning
when the buses hadn't begun to run,
so that sound of exhaust wasn't
mixed in with the birds singing
their good mornings, and
i walked kind of zigzagged through the dew
of early october in the city,
and found a new pair of shoes.
discarded on the side of the road,
all ripped around the seams,
but hey,
that's character,
sweeping aside the soggy newspapers
that were bunched all around it and
i slipped 'em on,
but not before looking both
ways
just to see if anyone was watching
but the only brave pioneers
out so early were the ones up to no good,
(and they had business to attend to)
so i was gone, baby gone,
in those new old shoes of mine
i felt all the places they've been--
felt it in my toes from paris to berlin,
and they took me away for places to see,
running me right into a yellowing
cafe on the corner three blocks away,
that smelled like coffee beans,
and cheap citrus candles,
the waitress with the pouty red lips
chewed her gum and stared out the window
with this dreamy look in her eyes,
and i wished i could save her,
and i tried,
for awhile,
came in every morning and smiled
her way,
hoping each time she would return the favour,
but she was too far gone,
(and not in that good way)
so i gave up on a wednesday, and never came in again,
but man, how i learned to love that place.
the next day, with no old haunts to go,
i went out in search for somewhere new where
next i was whisked away to the pish posh
upper east side,
where i met a man that taught me
everything he knew,
and what he knew was very little,
but beggars can't be choosers,
and for awhile i was learning something
newer everyday
until i couldn't learn anymore
and he couldn't teach anymore
and we had to part ways,
but it was for the better
because these shoes were travelin' shoes
and they had been ready to go for sometime now,
i'd only been holding them back,
so i simply gave in and gave up
and let them take me away.
and boy,
did they take me,
really
take me,
because
they had people to do and
places
to see and i was just along for the ride.
one week i was in love with the hazy voices
whispering of the end times
and the ice age that's coming,
those genius insane
gods in dark opium dens in chinatown,
where i remembered my mother was a trapeze, and then
the next week i was dead and in love with the blues in the underground
nitty-gritty of the city,
at the heart
where all the cool kids went.
when i tired of that mopey dopey jazz
and gutsy brass these shoes filled with sand
and i was at the shoreline.
somehow i made it to the pacific, and
a little sea-sick, but not sick of the sea,
i loved her too
and a few months after that i remember
my heart belonged to
all the dreary plastic faces
i saw pressed into bus windows that passed by the
park bench i spent my days on the coast
where the ocean was green.
i'm so used to lovin' now that it's hard to believe,
my life started on that one day,
last year,
when i woke up not feeling quite right--
putting on a shirt and jeans that looked clean,
finding the secret to everything on the side of the road,
with ripped seams,
that an angel must have left for me.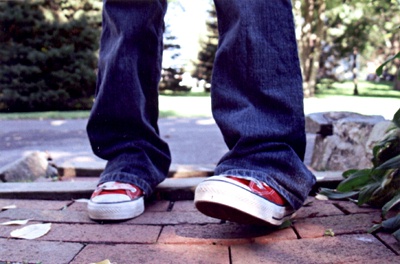 © Sara M., Milford, CT