Sunny Dreams
October 25, 2009
The sun is hiding, not wanting to wake from its peaceful dreams.
Darkness wraps around the earth like a blanket keeping out all light.
Standing on the smooth sand, Light begins to illuminate the sky.
The brilliant sun is unseen but its light in the sky is clearly visible.
Sharp smells of salt and sand fill the cool breeze.
Shells scattered on the floor like children's toys,
As kelp swirls gracefully finding its way to safety on the near shore.
Bright waves are crashing on the startled sand.
First rays of light breaking free from their hidden chambers.
The sun pulling itself up with determined strength.
Gold's, pink's, and orange cover the unending blue canvas.
Birds start their graceful dance with the waves in a carefree march.
Crowing like a rooster greeting the sun, seagulls show their respects as well.
The waves reach out their desperate hands in hopes to grab hold of the sand.
Sea creatures waiting to play in the waves that reach up to the blue sky.
Any haze that thought of invading the shores flee from the glorious day.
Humans encroaching upon the stretch of land with their colorful belongings.
Children digging making once smooth sand the aftermath of a castles battle.
Four legged creatures running freely down the length of the waves,
Only returning when they are beckoned from their pleading masters.
The shore remembering back to better times where there was a peaceful loneliness.
Each day is the same waves and sun, but new people break the unending cycle.
Night eventually comes to wish a goodnight and peaceful dreams.
The dream always the same scene of a perfect beach waiting for the dazzling sun.
And each new day brings new happiness of the bright sun and crashing waves.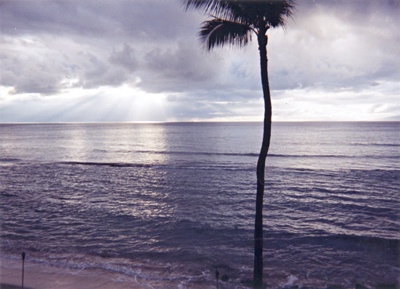 © Grayson H., Highland Village, TX