Awakened
October 24, 2009
Feet are cold and icy.
Stones, dragging me down
creeping upon me until
I'm no longer flesh
but rock.
The world is dim already
and somehow gets darker.
"You should go to sleep.
Losing sleep is bad for you."
I manage to mutter
"But I don't want to go to sleep.
I need you to keep me awake."
But the darkness grows, threatening
to take me under.
The stone is at my throat
now...
Seeping up my lungs...
Grasping the breath from me,
my heart already hard and cold.
A pin prick
of light
shines suddenly.
Growing, reaching,
a hand
takes my lifeless stone
fingers.
"I'm here. Awaken!"
"Help me. Please!", I gasp
for air
grasp for the light
warm
flesh of the hand.
We touch.
Light surrounds me again.
I am alive.
I can feel the warmth.
I can feel a hand in mine.
"Can I sit with you?"
I look up and see
a person.
They stand there, gazing
into my eyes. They saved me.
"Thank you. Yes.", I say,
my voice full
and alive
and welcoming.
I have been awakened.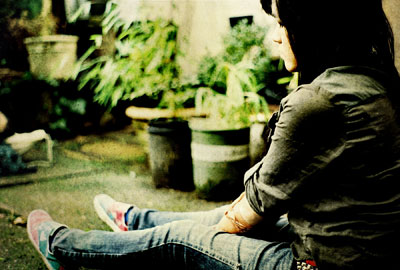 © Hailey J., Lake Oswego, OR