History of a one track mind
October 21, 2009
A symphony of laughs follow her.

The girl of insignificant dreams.

She's aware of her misfortune.

Her atrociousness.

She knows she's taking risks.

Tears stream down her cheeks.

She is lonely.

She cries herself to sleep.

As the blade touches the skin again,

it brings back the memories.

The things she runs away from.

The lies she tries to hide.

Violent fits erupt in the next room.

Pounding on the walls.

The blade digs a little deeper with each sound.

She understands the world.

The pain drifts away like an infant sleep.

The walls disappear as the words in front of her eyes pulse

to the rhythm inside her head.

The relevance sings away the turns of unsure-ness.

She realizes life is a puzzle.

A puzzle in which the pieces do not fit.

Smouldering embers reignite in her skin.

They bring her back to reality.

She looks at herself in disgust and pleasure.

She realizes it's just another ploy for attention.

She is filled with anger.

The blade digs deeper.

Once again things go black. The pounding stops.

Life's memories fade.

This is what the girl is hoping for.

It's so close she can taste it.

Flashing lights interrupt her dreams.

Clean.

White.

Fresh.

Crisp.

They all swim in her blood.

Memories brought back.

The wounds heal.

The girl finds the blade again.

Time to repeat life's lies.

No wonder she isn't loved.

History will always repeat itself.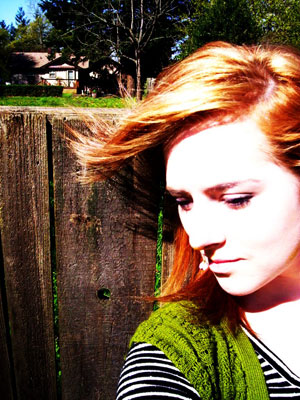 © Anna K., Portland, OR