Swing Set
October 16, 2009
The Swing set was sometimes an airplane
powered by swings
Sometimes a house

with odd make-believe rooms
Sometimes a time machine

to foreign lands
If it were only true, I would transport myself to you

The day was done and autumn air

began to creep in
Our long brown hair, damp but drying

Starched by chlorine
Bare feet, dark with dirt
Cutoff shorts and oversized T-shirts
eleven years and in our prime


"Grab flashlights and we'll play
ghost in the grave yard!" my neighbor yelled.
The monkey bars creaked with rust
as he hurried to join us,
My best friend and I
I can still see the freckled faces
Of Geraldine Drive

He didn't know her, but he knew me;

since he was three
And yet...I didn't realize what his
friendship meant to me...
He put on a show, making us

laugh until we cried
Obscene jokes or elder wisdom?

Not much older than me...

It was the end to the perfect day

The pool, now calm...no raging waves

The swings, now still...not thrust forward

The bikes, in a pile...no peddles circulating
The three of us alone on top of the

Swing Set
On top of the world.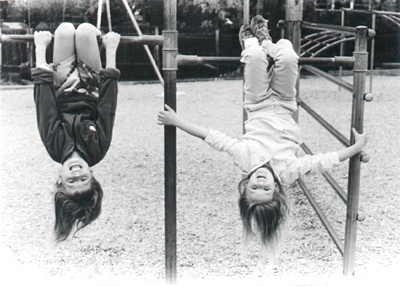 © Danielle W., Marblehead, MA