Almost Home
October 11, 2009
When I was younger,
clouds were cotton candy ripe for the picking.
There was no sense in staying down when you could fly.
I sat on the green abyss and stole flowers from their families,
saw no need to be alone.
The sky every now and then let water fall down on us,
as if to say we needed a shower.
The brown stuff turned wet and I made delicious pies with it all day.

When I was younger,
my daddy held me in his arms, legions above the carpet,
whispered promises of rainbows and sweets.
I sway in his iron vice,
back and forth,
back and forth,
I flew into his heart,
and ate up his love.

When I was younger,
my mommy made me tasty food, made of heart and bone and soul.
I ate it up 'till there was nothing left.
More please.

When I was younger,
my daddy put me down,
my mommy stopped making tasty food.
They screamed evil words,
their anger crawling into my bedroom at night.
The lies of marriage see all crime.
The time for kisses ceased to be,
they no longer tucked me in and wished for happy times to come in slumber.

When I was younger,
they went away.
Left me to be eaten by the monsters under the bed,
the demons in the closet.
I was to become one.
The scary woman came for me,
said "it's all gonna be okay,"
whispered "this is one big mess."
I didn't understand.

When I was younger,
I was sent to the place hidden underground where the other dirty people were.
Gremlins just like me.
The woman said it was an orphanage,
that this was my new home.
A web of lies she spun.
A brick bed,
a needle pillow.
A grey sky,
no more cotton candy.
What happened to Mommy and Daddy?

When I was younger,
the woman told me Mommy and Daddy left.
It still didn't make any sense.
"They loved me. Didn't they love me?"
A shake of a head shattered my life.
They sold white demons to other evil people.
They were Hell's minions.
Dealers.
And they died from what they sold.
Their heart stopped.
The white demon ate up their soul.
It killed them.

When I was younger,
I ran away,
to a better place.
The streets became my home,
the concrete my salvation,
the bench my bed.
I stared at grey sky,
the dirty people just like me.
I was alone,
to be eaten by myself.

Now I am still there.
But they are no longer my home.
I search for something more,
the thing I used to have,
when I was younger.
I'm almost home.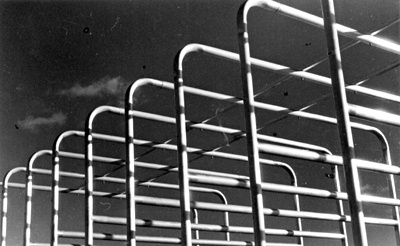 © Steve S., Marblehead, MA