Can I Tell You Anyway?
MAG
October 8, 2009
how are you?
i'm fine
no, really, how are you?
discontent.
just discontent?
feel my hand, it's shaking
i woke up this morning
the smell of PTA smothering
me by the shape of my mother's hands
tapping on the bedroom doorway.
wake up, she says.
in the shower i think of
the hole i'm burning into the
bed out of my body, or the lack thereof
round and long and lean
each limb another continent.
i scrub out my hair with
that shampoo from the drugstore,
the kind that smells like
synthetic ocean breeze
and i rinse off the layer on my scalp,
the sweat i lost over you yesterday
and i find my skin dripping completely to
the swirling drain beneath my toes
which curl when
the water singes my
hunched shoulders.
i pat myself dry with a
dirty towel, because i haven't
done laundry in a week.
i'm too consumed.
with what?
with what, you ask?
but you didn't ask.
can i tell you anyway?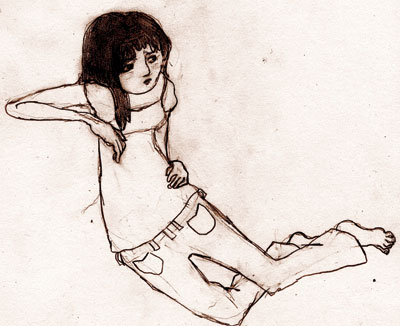 © Samantha W., Albany, NY