Island Dream
October 6, 2009
A cloudless, clear, azure sky.
The sun beaming with each of its remarkable, golden rays.
Its rare light reflects off of the capricious ocean.
I watch the monstrous waves move with much
Force as my bare feet walk through the shallow water.
The white sand on the coast shimmers like a thousand crystals.
It's a paradise not meant to be disturbed.

Soaring seagulls fly over the mist while dolphins dive in and out of the ocean.
Palm trees sway as the warming breeze sweeps over the island.
A careless summer morning turns into a relaxing
Evening as I lay in a hammock with a book to read.
I watch the sun set among the horizon as I bury my feet in the textured sand.
Sea stars and sand dollars decorate the shoreline.
I decide to build a sandcastle to add my own decor to the beach.

I run along the shore feeling only freedom and happiness.
Suddenly, it starts raining heavily and my feet pick up the pace as
I run for shelter into a glistening cave.
I sprint inside, to find beauty and excellence,
An opened chest filled with gems so rare, dazzling with each uniqueness.
The gleaming rocks illuminate the cave with brightness.
Their fascinating shine starts to dull as the rain comes to an abrupt stop.

Everything starts to fade like watercolors ruined in the storm.
I wake up from my hypnotic sleep.
There is no chest filled with riches, no relaxing beach, or soaring seagulls.
I look out the window, only to find homes and busy streets occupied with
Neighbors, friends, and children selling lemonade.
The golden sun still shines as it had in my head while I was asleep.
The paradise I felt was only an island dream.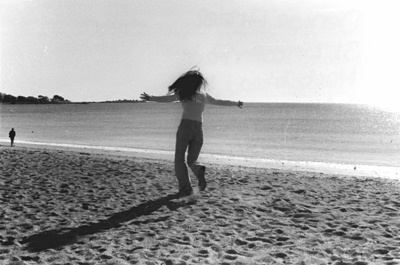 © Denise A., Marblehead, MA