My name.
October 4, 2009
My name means nothing to some people who see it scrawld across a bleached out page.


My name is diffrent to forgien tounges that have sweet lisps among thier rose lips.



My name is like the sound of a gutair being tuned up with the sea of brass insturments.



My name came from the lands of Sweden with the feilds of wild flowers that sparkle with colors. Vivid from the blue contrast of the sky.



But because my name is mine, no one can compair with it.


My name is strange and does not rhyme with anything. It sticks out like a neon pink sign in the black from the monster's mouth.



My name is mine and not your's to judge. But lets not remorse over the loss of power, because you my friend will never hear my name wispered on those lips of revenge.


My name is sealed behind the walls of my mind that can not break out of thier cells.


Because my name is mine and no one can change that.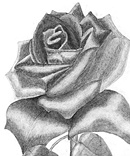 © Nghi L., Phoenix, AZ