Light Bulb
October 2, 2009
Light Bulb
Blinded
by the dark
I try to find the switch.
I stumble over the bag
on the smooth floor.
I reach the light switch
and turn it on.
The dark room
now illuminated
by the rays of light
coming from the ceiling.

Now I am able to see
the pink room.

The bed has a large pink
and black comforter,
A bright colored rug
is in the middle of the room,
And the windows
are covered by the dark blinds.
The blue and white bag
that I stumbled over
is at the corner of the bed,
Filled with school books and papers.
There is a warm mood
in the room now
that there is light,
I feel warmer now too
Everything around the room
comes together in harmony.
All the messy belongings
laying around
makes the room feel
more like a home.
The random clothes
on the floor from my morning.
My old teddy bear
hanging out on my desk.
The small filament inside the bulb
is like the memories someone has,
The light bulb lights up a room

and a memory lights up someone's day.
As my mom enters my room
she complains about the bright light,
But I like the light in my room,
it makes me feel more at home
when I open the light and

see my room and my things.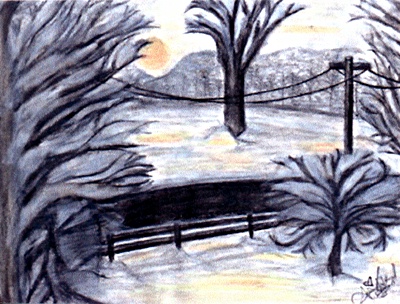 © Amanda W., Nanty Glo, PA