The Rose
September 26, 2009
Blood of the rose seeps into the ground,

And all is drained of color, drained of life.

My brittle hands pluck the translucent rose.

Jagged thorns pierce pale skin and blood drips

to the ground to meet the fallen flower.

Death follows wherever I may stoop

The colorless, lifeless me

I am old.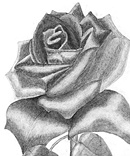 © Nghi L., Phoenix, AZ