The Artisan's Place
September 16, 2009
The Artisan's Manor


Carp Manor, the dilapidated estate,
The Artisan's place.
A party of 10.
The eccentric, the renowned, the bizarre.
All who have come from wide and far.

The murders of all,
All but two.
Me and you!
But who could it be?
Who could it be?

Alas! There is someone on my foot!
Ah! It is not me!
Then who could it be?!

Then laughter rung out and lightning struck hard.
The glow from the shock descending in shards.
A figure, standing black in front of their faces.
The dominant man, who put them in their right places.

Pursuing each Lord and Lady, and his Master of course,
They thought they're best as they danced and laughed and ordered him more.
But he, he the man who sought their death,
Told them not! And instead,
Put them to rest.

In profound grief, the two sunk to their knees,
Bloody and begging, begging him please.
Asking, Why? Why? Why must you do this?

The man did not answer and more lightning struck,
With each of his footsteps, his blackened heart shrunk.
With no light but that shooting from the sky,
He turned away, and not a tear did he cry.

No feelings he had, such a lonesome being.
He did what he did while smiling and laughing.

He looked at the paintings adorning the walls.

The Art! The Art! The Art is now mine!
The paintings and sculptures! Oh, the poetry, the words,
All mine!
And with time I will sell them, make a fortune or two.
The world is in my hands
…
Oh Lord, what shall I do?

Grabbing all The Art he could hold – innumerable pieces,
He walked out of Carp Manor, the austere abode.
His sluggish eyes running over the place,
The consequences of his arduous task he just could not face.

With the catastrophic horrors he caused inside,
He closed the front doors along with his eyes.
He would forget this night, this thing he had done;
Move on with his life, have some sort of fun.

Goodbye you somber place,
Goodbye to this dreadful memory,
And goodnight to them all.

The butler rode off in his archaic carriage,
No longer the benign man he once was.
He was wary and regretful, but you must do what you must,
Then he took off down the road in bitter disgust,
His shadow eclipsed by the storm.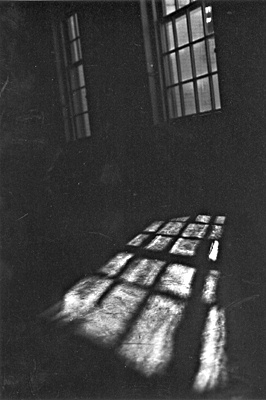 © Mary A., Fullerton, CA