"..Under This Raw, Star Filled Sky.."
September 16, 2009
Your beauty is evident as your eyes glow and glisten in the dim moonlight.
They captivate mine with great intensity and refuse to let me wander alone under this raw, star filled sky.

So you grasp my lonely hands with a sweet confidence that I've never seen you grace before,
and I know in my swelling heart that you would never allow me to be ignored.

I get lost in those eyes as we stray ourselves away from what was once considered known,
and a world of constant disagreement and distress flies by us as our pace increasingly grows.
We care about no one but each other and would kill for the other to merely smile.
We'd sincerely give anything and would fight unto our own death if it was worth the other's while.

Your inner beauty is so evident as you swiftly lift me off my feet.
You can see that they're chasing us…all of the ones we never dare meet.
They grin their evil grin and shout out words of anger and apparent warnings spawned by care,
but we know that misery loves company… and that they are filled with many bitter and sour despairs.

After they fled back into their shadows fearing the sun's embrace,
the colors of sunrise dance with wonder upon each dimension of your innocent face.
The moonlight is now completely erased from the warm, tender sky,
And I have to leave, as my heart cries, with only memories of those enchanting eyes.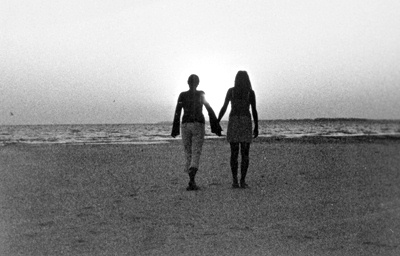 © Kim B., Marblehead, MA