a hopeful place
September 8, 2009
sunlight streams in through the blinds
and lights up a wondrous, messy study.
papers stacked there, papers poking out here,
pens scattered over the desk,
mugs and mugs of coffee and milk.

oh the whole thing rings with life!
in the chaos is something incredible.
the vibrancy of creation! here is the place.
here it all happens, sentence by sentence.
nothing can be thrown away, all is precious.
cleaning is impossible! everything is in order.
don't touch, it might disappear forever.

ideas here, dreams there, stories everywhere.
slowly it comes into focus, slowly it merges.
one thing connects to another, a circle.
a never-ending cycle of great discoveries,
a tireless journey filled with laughs and cries.

nothing is the same, there is no two of one.
all is special and unique, years of planning!
something good must soon rise from the mess,
because all is scribbled with passion,
moving on to other things with haste and zeal,
being flooded with sudden knowledge,
the fear of losing even one delicious piece.

such beautiful world, such enchanting realm,
the room of marvels, the home of magic.
that is what writing is. look here, learn,
that is what the writer does. stride forward!
amazing, aloof, blind and omniscient!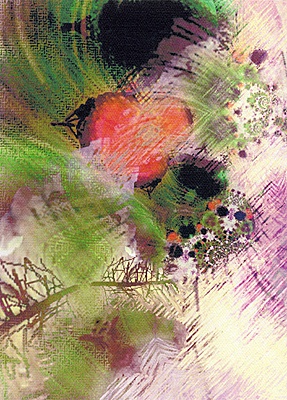 © Ashley P., Galesburg, IL