He's Gone
September 7, 2009
Inside is a mess.
Outside is a smile
inside there are cracks
outside the are jokes
inside she bleeds
outside she hides scars
inside she cries
outside she leaves her mark
inside is dying
outside is covering for inside
inside it hurts
outside shows no pain
inside claws its way out
outside can't hold it any longer
inside is exposed
Bleeding, scarred, broken
can someone fix it?
Make it stop.
Anything? Just make it stop




Can you hear it?
As it slides down?
Can you see them?
As they race down?
They are clear,
but surely not invisible.
Will you try to stop them?
Or will you stand by and watch?
What do I have to do?
Before someone realizes...
can I do it myself?
I can try...



What did you expect?
Did she disappoint?
Of course she did.
She always does.
Never quite good enough,
always just a runner up.
Good for nothing except second best.
She waits for him to see.
She waits for him to ask.
She waits....in vain
he's gone.
He's not going to come back
never again can she calls him her own
she let him go.
Because if she hadn't, he would've.




Slice it. Rip it. Tear it. Anything to cause it.

No one understands what its like to know.
What it's like to watch,
not being able to control it.
To make everything alright.
Fingers twitch,
it slides away.
A puddle forming,
consciousness fades.
Black comes closer,
I want it.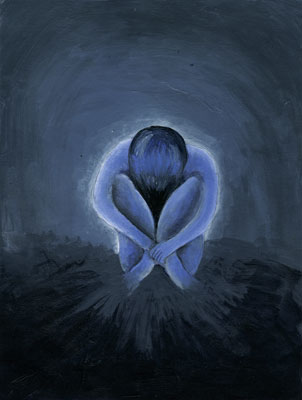 © Becky F., Sacramento, CA