Puberty
MAG
June 17, 2009
Like bread jammed into a toaster.
Caught between one world and the next
He longs to be buttered
but is still premature.

He is frightened of the orange juice,
her long slender body and
golden pulp-filled nectar.
she is plates ahead of him.

but still with thirty seconds left,
he could easily go back and sit
with his twenty-three soft companions
inside his shell of plastic with no worries.

They could settle for peanut-butter and fluff,
but he longs for the cherry jam
to smear across his crisp, tanned surface.
And still, he is not quite there.

If he attempts to emerge too soon he will
appear flimsy and tasteless.
If he falters a little he will become charred.
Undesirable, worthless dog food.

But as soon as his courage goes stale,
he feels his beckoning. A metallic thud urges him
to a world of hunger-filled breath,
thrust into the life he has desired for ages.

He finally feels needed as he is set beside
his buddy bacon, and among his cousin
egg. His life of worthless counter-topping
is finally sliced.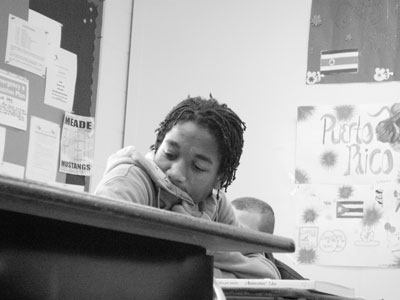 © Demetrius A., Ft. Meade, MD