The Fireside Phenomenon
MAG
A young boy stands
by the crackling flames,
mesmerized by the dancing
figures that morph poses faster
than comprehension can
establish an image.
He plops onto the camp chair
in such a way that causes
silent chuckles in the adult onlookers.
He is not so much on the chair
as an extension of it.
The seat has grown an extra set
of limbs, and restlessly shifts,
as if to crawl away.
The youth snatches a stick
from the pile of brush.
Grasping his newfound sword he
plunges it into the forge.
The tip, regularly removed and examined,
gradually burns away,
glowing neon orange in the twilight.
What makes all small boys inevitably
follow this beaten path
when watching the dancers?
Does he hope his sword
will create a bridge
into their world?
Somehow he might join them,
returning with some of their mystical
poise.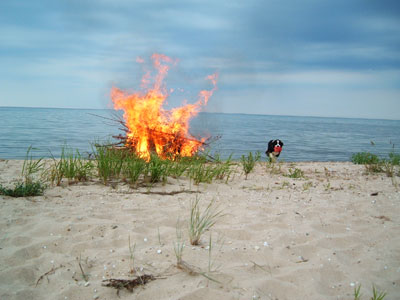 © Hilary L., Rogers City, MI