Knots
MAG
Mom never knew how.
Couldn't have been hard
to understand,
maybe.
But she was six once,
with matted hair
tied together in
intimate,
clutching
knots.
Yet I received no understanding.
Hours of shrieks
bubbled to the roof of our home
in the mornings.
Constantly ripping,
tearing the knots apart
with the bristles of the brush.
Lines of fire across my scalp
with each jerk.
So Mom would silently curse
my curls,
threaten to shave them
while I slept,
dismember them
with kitchen scissors,
any possible escape
from our morning torture session.
Stop crying,
with those thick alligator tears
oozing from your tear ducts.
Stop screaming,
your vocal chords raw
and swollen
from being violently slapped
together.
Just stop.
She would denounce my tresses,
then abandon the task,
the strength in her gone.
That was when I would
come to him.
Daddy adored my long hair,
my knots of chestnut curls
tumbling over my back.
So I kept it long,
for him.
Holding the brush
as though it were an offering
at some archaic
pagan ritual,
I would pass the object
from my small fingers
to his.
That gentle smile,
it caught like fire across
his chapped lips
and his shadow of a grizzly
beard.
Beaming, he would swipe the
wooden thing from my
miniature digits
and lift me up,
onto his
cluttered pine tool bench.
Slowly,
slightly,
he would stroke my wet,
knotted curls.
The thick Irish curls I stole
when he wasn't
looking.
Deliberately,
tenderly,
working upward he combed.
Never ripping,
never tearing,
but gently coaxing
each strand out of the tangled
mess.
An hour may have passed,
and we'd still be there.
Him brushing,
me sitting.
Bare feet banging against
rough lumber
as he stroked
up, down.
Up, down.
When the task was completed,
I came to expect a sloppy kiss
on the forehead,
or the cheek,
and a ride down
to the dusty garage
floor.
Mom would be watching
this last part,
dark eyes peering
through the screen door.
Scorn written in her
wrinkles,
in her flared nostrils.
The curse now weighing heavily
on me.
A hand on my shoulder,
brushing the weight off.
A calloused,
hardened,
gentle hand.
Sealing the bond between
father and daughter.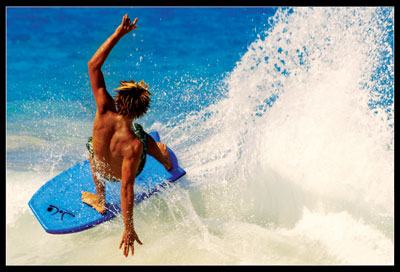 © Sarah L., Holualoa, HI