Scurvy
MAG
A picture of my father
was tucked inside the yellow
leaves of an old Bible
in my house. He leans
over a table clothed
in papers that might be important
and behind him the curtain is blowing into the room,

pushing his hair
into his eye and lifting up
the edges of his papers so
that the table peeks through.
His shirt is red and white and striped, like the flag,
or a pirate.
My father left our house
two days and three hours
and twenty-seven minutes
before I was born, and maybe
he will return two days and three hours and twenty-seven minutes
after I leave, but we'll never
know, always missing each other
by that small margin of time.
It's really just one
sentence in my biography,
if it were written, and it really wouldn't matter except that damned, single sentence in my hypothetical biography has stolen away pages
and pages. Each day is a gem,
and each day that belongs
in that pocket of time
where my father and I barely
miss each other is a gem that
my father has stolen.
His shirt in the picture
between the pages of the Bible
is red and white striped,
like a pirate.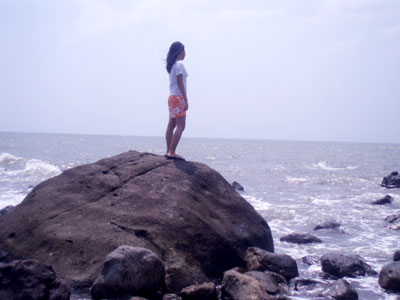 © Grace L., Bacolod City, Philippines