Perfect Paper People
MAG
Blood-flavored kisses
Concealed heartbreak in paper dolls
In the stage of the moment
Paper dresses
Ragged on the edges
You cut outside the lines
When you slip you snip ...
The arm off
But paper veins don't bleed
And you return to surgery
Tape seals the wound
A little uneven, but careful, almost better
You attach the doll to a stick
And the paper love begins
Soap opera-ish love tales
Watched by everyone
Caught on tapes and watched later
Always perfect
Hairs never mussed
Clothes never get dirty
But in the paper world
Paper rain trickles down and they walk
When paper boy catches paper girl with a silly other paper boy
Soap-opera love makes the three go mad ...
Mouths shaped in silent O's
That scream and sob in speech bubble words
Inner thoughts and inner words that are only heard by you
Because it's really all your fault
When daybreak comes they drown
Soggy paper people in far too thick red paint
Form the crime scene for which the cover up spawns
Perfect paper people stand but they are not the same
The tape on the arm is gone
You re-cut from a pattern and far too many copies are formed.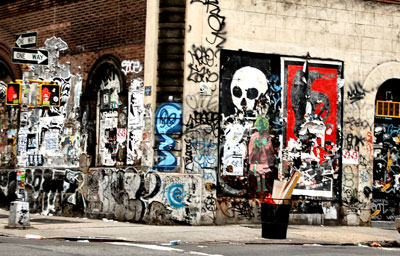 © Jennifer P., Massapequa Park, NY