the intersection of two lines
MAG
April 26, 2009
I'm looking for meaning in
Everything, everywhere,
In every forgotten nook and cranny,
Under the bed among dust bunnies and missing socks,
Looking for the answers to the questions
I've never had the nerve to ask –
The questions that litter the crowded spaces in the back of my head
Among the half-baked and burned-out ideas.
I'm looking, but my mother tells me I'm not looking hard enough.
Your eyes are closed, my dear, she says,
And I throw a book across the room, and it bounces once on the
Mahogany table, knocking over a glass full of water,
And the water spills, and the glass breaks,
And I laugh.
This is meaning.
This is what I've so desperately wanted.
This is what everyone so desperately wants.
We want to know that everything we do,
Everything we think, everything we are,
Everything I am, is worth something –
Worth anything.
Story of a girl, seventeen, acting out
Looking for a reaction,
Looking for the wind beneath her wings and all that metaphorical
Crap that people write about,
Story of a girl trying to figure out the purpose of life
Inhale, exhale, expire
Wanting to know, desperate to know that there's something more
Looking for the inspiration behind the lyrics,
The motivation that fuels the marathon runner,
The vision in the head of the broke Brooklyn artist that no one else can see,
Story of a boy trying to be a man,
And a 13-year-old little sister who thinks she can wear eyeliner and mascara,
The paradox of an African raindrop and an American safari,
Story of an immigrant and an orphan, and the point where these two lines meet,
The intersection of insanity and beauty,
Where naïve expectations meet cold, harsh reality,
Where pen meets paper and the story of a girl begins.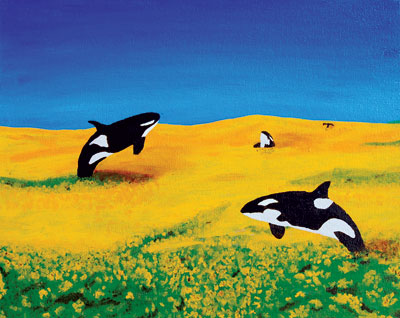 © Bobby C., Hopkinton, MA