I am
March 8, 2019
The Mojave
A golden sunrise will burn your pure eyes.
Daisies singing with purpose have insects
Beneath their surface. Refreshing prizes
Wait alongside your king's subdialect.
His sketch artist claims to never collect
A spit of recognition while others
Get Mercy's light, and he now blubbers.
Why does his superior neglect him?
He throws verbal rocks at mocking covers
To get passion before it got so grim.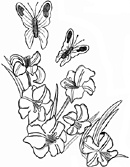 © Leah-Marie D., Peoria, AZ