A Decade Away
February 15, 2019
To my future child:

If all of the words I wanted to say to you
could fit on one piece of paper, I'd save millions of trees.
However, words are real difficult to assemble sometimes
so I'm going to do my best to let you know I love you.

To be loved is to be remembered even when you think you're forgotten.
Forgotten is to be left behind because you were so loving.

I don't want you to think you will always be forgotten
because I used to feel that way when I was your age.
You come to realize that being forgotten is just a thought
A thought that you let take over your mind like a disease.

However, if you do think you're all alone, just look two feet up
because you'll find me, and I'll never let you be alone.

I don't care if you come out with a disability or five arms
because the smartest people are the ones who overcome.
To the best of your ability I know you will thrive when others fall.
I know you will do anything possible to conquer the impossible.

Out of all the poems and drawings I've done, you were my best creation.
One day people will get to see you on display in the hall of fame.

I want you to be able to figure out who you want to be
Even when you think you aren't cut out to be that
because who you want to be reflects who you are
and I can tell by looking at you that you're a shooting star.

Never let the face of fear keep you from looking up
because if you think about it, fear makes itself suffer.
If you want to be a superhero I will make your costume
and watch as you soar through the sky to change people's lives.
I'll mend your tattered cape, and watch you rise again.
Even Superman will be jealous of you.

Let your friends relax you on your stressful days,
and come to me whenever you need me.

My doors are always open for you, even if I'm letting in a hurricane.
There aren't any simple words or phrases to describe my love for you
One day, when you're my age, you'll understand my frustration,
but for now, I want you to keep on through the galaxy.

I'll see you in a decade.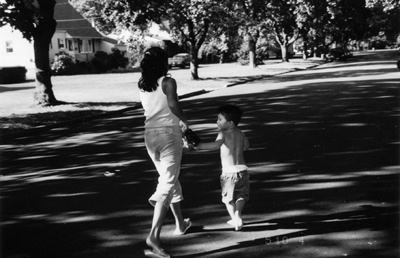 © Angelica M. Pequannock, NJ