Woe Is Me
February 7, 2019
Woe is me, for
How shalt I describe thee?
Thy words can never compare.
If honey be sweet,
Then thy melodic voice is sweeter.
If thy moon shows beauty most,
Then thou shalt be thy moon.
If flowers be full of color,
Then thou art thy most beautiful flowers of them all.
And if thy Sun is known as bright,
None have seen thee, for thou art most bright.
If air be purest of them all,
Tis a lie, for thou art purer.
If spring be lovely,
I shall compare thee as loveliest of all.
Thy world cannot compare with thee,
Neither thy poem nor poet can do thyself justice.
Thy words serve to immortalize thee,
As the most loveliest goddess of existence,
Though thy words fall short and thy meaning is bland.
Woe is me, for
How shalt I compare thee?
Woe! For thy eyes sparkle with beauty,
And nothing sparkles like so!
Woe, for thy smile outshines
Even thy brightest light!
Woe! For thy words can never compare!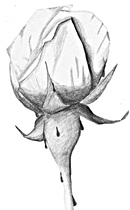 © Elaine S., Phoenix, AZ