Who Am I?
October 23, 2018
The demons are screaming,
In this darkness they're teeming.
Smothering me, I can't breathe,
As the darkness creeps inside.
I'm going under,into insanity,
The steel is cold,
As it slices across my wrist.
The feeling of sudden pain
Brings an adrenaline rush.
I giggle as I watch the blood
Trickle from my wrist.
I smile as I watch it drip
To the ground.
Flashbacks to when I was
Able to smile in joy,
And when I could laugh without pain
Hit me.
I sob as I look in the mirror.
Dark eyes stare back,
Though I don't know who it is.
A face lined with pain,
A mind tortured by voices,
Skin slit by steel.
It's a likely image of me,
Though when I stare at old images,
I don't remember who that kid used to be.
He was so happy, and alive,
So loving, so caring.
He is now my stranger.
How hard it is now to duplicate that laughter,
Or to replay that smile.
I'm dark, haunted,
And possessed by my demons.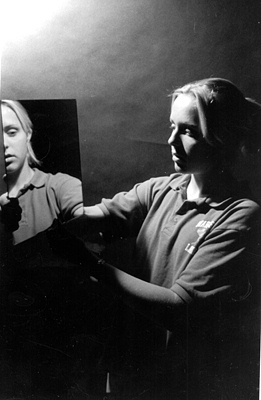 © Hadley B., Marblehead, MA