Where I'm From
December 4, 2017
I am from shopping bags,
from roast, rice, and gravy.
I am from the bay
(laughter, crockpots,
and it smells like the sand and sea.)
I am from the fish
the sunset
Which painted the southern sky with warm colors
touching the sea.
I'm from the Christmas Eve parties and homes with welcome signs
From Sulcer Allen and Dorothy and Louis Desobry "the 14th"
I am from the easy criers and children who prank each other all summer long
From the "stop jumping on the beds
and the did I ever tell you about the time when…"
I'm from my grandmother's bible
Which she tried to read to me every time I saw her.
I'm from Highland Road and Mississippi,
Ming balls and red beans.
From the Thanksgiving that one of the dogs tried
to eat one dog over a bone,
the runs that my dad would go on to escape.
In the attic,
There are pictures with faces of the
old looking young, hopeful for their lives ahead of them.
I am from the ancestors that fought and survived
for us to be in the present.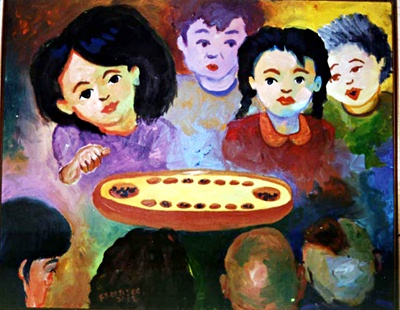 © Fransisca A., Surabaya, Indonesia