Save Me
April 28, 2017
Save me....
Save me from these 4 walls
4 walls that enclose on me every time I breathe. Save me from a broken heart that can't mend itself because of the secrets I still keep. Save me from the pain of lurking eyes that follow me every time I speak. Save me from the running mouths, no, gabbing black holes of egotistical idiots that have no right to speak, to announce their presence without exception.

Save me from a place that prohibits sunshine; happy, bright things that are contraband to others. Happy faces turn into melancholic downpours of depression. Save me from meaningless songs, songs that have no right, that are unacceptable to be sung.
Embracing life itself is hard within these 4 walls.
Wishing that I was the one who was on the outside, to clutch everything in sight, so bright with such life.
    
While I lay in the walls' interior, a dark, dark place, suffocating me with its emptiness, a vague hollow shell that is all so heavy. Heavy on my heart; losing all of my morals, loving thoughts of others will never be restored because of them.
Oppressed being that my pride & independence has been taken away from me. Been through the infernal bottomless pit of 
Torment & affliction; and made it out with little conviction. For I searched for its remains. Searching for someone to love me again. 

The layers of heat stacked above my dermis; sweating, which is all influenced by you. Come save me, your glistening armor reflects hope; hope for me to leave. Take me, drag me from these walls that resent my entrails. Hold me, for I miss warmth, yours especially. Care for me, don't leave like the others, ugh, why even bother. Leave, for I knoweth that you're heartless, as you find me disturbed. Crazy, they say, call me what you want; for I know it's true. Freak. Mutant.... Beautiful, you say. 

What did you say? Beautiful. Where? How? When? And Who? Not me. I'm different. I'm not a model or a curvaceous broad. Numerous find me odd. Beautiful, you repeat, you're so beautiful. How can I be beautiful when I'm so pitiful. Help me. Help me realize, recognize my inner beauty. I waited so long for someone to know, to show, how I can finally take full control; of my life, of my choices. Caged, incarcerated within my own mind; help me, for you only apprehend His knowledge. 

My angel sent from above. Your wings invisible to the naked eye, but I see them. Angelic, a luminous halo that encircles you fittingly, so fittingly. You're perfect. So beautiful. Take me, lift me to His Kingdom & free me from this pit. A sunken place. He smiled so sweet, hearing my praying thoughts, begging to be released. One day, my child, for I love you forever. No need to beg, for there will be better weather. And with that, he vanished as if he didn't exist. Tears flowed from the floodgates of my face, streaming & staining. Why did he leave? I trusted him with my life & he left me behind? I should have known, for I let my guard down. He would leave. Why wouldn't he? You're crazy, don't you see?

Those recent smiles turned dysphoric, my face drooping. Bitterness ran through my veins, to my arteries, to my preceding cold heart. Warm it once was, with him there but without him, glaciers float through the air. I wished for his return but I knew it wouldn't come—it never does. I laid my head on the tear stained pillow, for it became a routine for me-- Blame myself, blame him, cry about it, laugh about it, then cry about it some more. For if I only knew what was in store. Deep sleep, a utopia of calm silence; sweat above our brows as I slept & he worked. He dragged me out as I dreamed; for the place showed its true colors, as it was an infernal bottomless pit after all.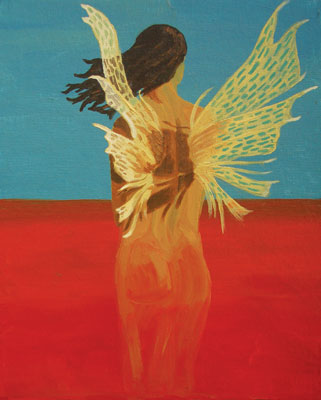 © Allison F., Langhorne, PA