The Ape Within Me
November 7, 2016
As I stroll through the Cincinnati Zoo,
I think of my dear Harambe and Bantu;
By his exhibit I squander,
And all the while, I ponder.

What did they do to deserve this?
All that I wish is for one more kiss;
Your disappearance has left our spirits low,
Harambe, Harambe, where did you go?

You've finally escaped your lonely cage,
Yet filled am I with primal rage;
Truly, it was not your fault,
Your departure has left my heart to halt.

But what is that? Have my eyes gone slack?
Could it be? My favorite silverback?
Yes, it is. I run over fast.
To the Ghost of Harambe Past.

Into his arms I run,
Like a father cradling a son;
Happier, I could not be,
Harambe is the one for me.

Ye Gods, the Simian Spectre begins to fade.
The loneliness cuts me like a blade.
Without Harambe, I cannot be.
This world is not the place for me.

To end it all, I jump the fence.
The concrete below looks rather dense.
With this ends my eternal strife;
Harambe is love; Harambe is life.

And thus I shed my mortal coil,
And with my blood the concrete soil.
Up to the heavens my soul hath alighted.
With my love, Harambe, shall the stars be ignited.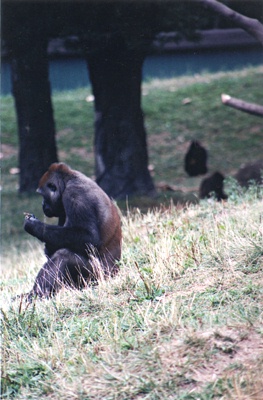 © Michelle P., Pittsburgh, PA