Ode to the Guitar
May 4, 2013
O sweet
my decadent
irresistible
instrument
filling my essence with sweet music
the vibrations of your body transfer
flowing into mine and filling me.

O guitar
the hummingbird
that is your
hollow of sound,
flitting away, not drinking, but pouring
into me the sweet nectar of
your soft, golden flowers!

The music
of God
comes from
you
filling the heavens with the open tones
of your buzzing, flitting strings, falling
down to earth and lifting me back to paradise.

The noises
different
as they are,
cascading
around the world as you caress
all people through the gentle sounds
bounding inside of you, joyous to escape.

O guitar,
the length
of your
neck,
giraffe-like, reaching to the stars, coaxing
them closer and closer, the gravity of your
music, making them want to land in your sea.

To flood
the world
with you,
let Noah,
ride on your soft waves as they
become quieter, and quieter still,
ready to release him to the mountain.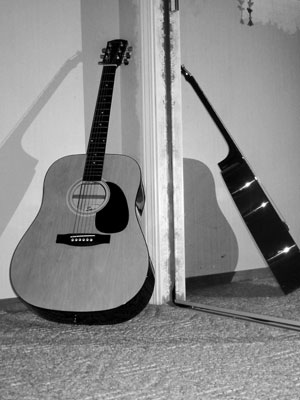 © Dylan F., Belleville, MI