Just Enough
September 6, 2012
The relevance of her name had never occurred to him before.
It could have been the alcohol interfering with his thoughts, but
a mysterious urge was apparent to know more.

The usual custom began with a shameful pick-up line, and
an offer of a drink too, assuming she hadn't left by that time.
But this girl was different.

He didn't want to fool her into believing the pretend.
That it was love at first sight or just for the weekend.
No. This girl was exempt from his standard droll attempts.

He caught her eye within the clubs dark glow.
Occasionally intercepted by the adolescent flow, but
his stare he held just letting her know.

And at his surprise, towards him she walked.
With a finger to her lips implying not to talk.
She glared at him as if they'd met before.

But when she came closer she whispered to his ear.
One word which he thought he'd never need to hear.
And it was at that moment the boy fell in love.

He hadn't met the girl, but her name was just enough.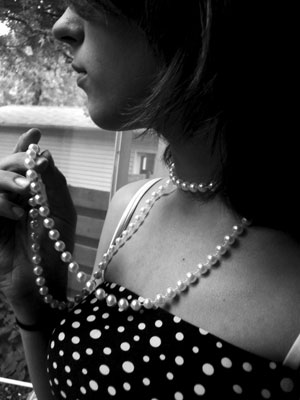 © Elaina V., Canton, OH