Promises, vows and we
August 16, 2012
Dear strangers, friends unseen,

Round the world we're trapped within promises,
Great promises made to heal one another,
Remember how we used to play chase in the Sun?
Oh darling, simple pleasures were all we ever needed!
Yes, we made love out of nothing, isn't it lovely?
He said: ' Don't block them, for they are children.'
How we were the light in immense darkness!

My friends, promises were formed, of love, of warmth, of grace..

Why then, tears both you and I, saying they're dreams?
So many roads to choose from, so much light ahead!
Why then, create hatred and anger out of your blues?
To mar our friendship, to taint our memories.
Why take on a murder, while your soul were whole?
I wonder, how benign that darkness must be,
It comforts us, made us a false shield, made us a false mask!

Only then, to slip its grip, and let us deal with perdition,
The Traitor is clear, masquerading inside our streets
Catch him! Don't let him crawl under the carpets,
Expel him, but keep a record of him, under eternal memory.
Slam him down, destroy him with a painful slash,
To keep our homes clean, away from his foul poison.

Even if fortune seems to err her treasure from you,
Even should a person gave up their journey before you,
Even when life seems too much a breeze or storm,
You alone can channel your cruise through those trials.
Whether it be worn, or polished throughout,
All is in your hand, my hand, our hands!
So sail, discover, share, dance! It's your odyssey!

It will be miserable! A life without belief! I would be miserable without love, quite so.


Do not fret the traitor, for he is sure to be thrown into flames,
But He, who is our lover, our helper, our mother and father,
Will never leave us, gave us freedom,
Waiting for us at Home, to greet us with a hug.
Never leave him! He had already loved us so unconditionally.
Grab his sword, defend your house, protect it till he comes!

Sing, no matter how bad it might appear,
Made to find your own voice amidst this forest.
Dance...Wherever it might take you to,
Your intentions alone are worthwhile!
I too, will learn to dance under rainfall,
Flip on your light, don't let it fade away!
Take His hand, he'll lead you forever.


Be ready, there will come a time when love comes,
And tap upon your shoulders in a surprise.
Never let the door get out of sight, our lover will arrive,
What will you do when he comes? Sit there and wait?!
Come and dance with him! Back home where we belong!
So, fulfill those vows, let's not wait till the last moment,
It's my story, your story and ours altogether.

It'll be hard, the traitor will try to snatch us, but don't give up! I too, hope to see this book unfolds, be written then sealed with one kiss...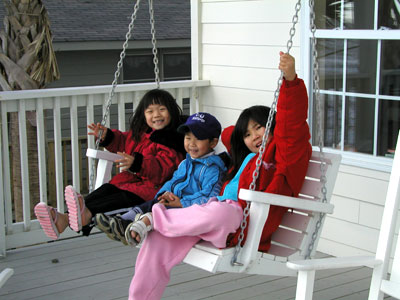 © Annie Y., Northborough, MA