Druid and the Beast
June 7, 2012
Twas a dark and stormy night
Just a prophecy foretold
And whispers filled the air
Like the stories of old


As they sharpened their swords
Young men shivered in fright
For legend also foretold
That few survived this night


But come h*** or high water
They must finish their quest
To slay the evil Beast
So the world may finally rest
To rescue the maiden
So pure and fair
To protect her innocence
From the gods of Despair


And if they should fail
Her death would be mourned
And upon her departure
A demon would be born
And the world would be tossed
Into chaos; insanity
All shall be lost
Every trace of humanity


Of forty men who had gathered
The most honored was one
He was their leader
A Druid's son


He spun his pure magic
And consulted his runes
To his men he said briskly:
"The battle comes soon.
We must ride through the forest
We must ride through the gloom
And meet this foul Beast,
This bringer of Doom.


Then we'll ride to the castle
With its head on a stick
So let us ride now
And get this over quick!"


The mounted their horses
And rode into the night
The spoke not a word
But prepared for the fight


The slowed their great horses
As they entered the field
The Druid worked up his magic
And created a shield


A thin layer of protection
Around him and his men
As the Beast spoke softly
"So we meet again."


The clearing was silent
As the Beast turned to around
A sudden bright light
And a horrible sound


Fire shot from the Beast's terrible claws
And the men began to screech
The Druid's shield
Had been easily breeched


Behind the beast, the maiden screamed
Her stomach swelled and bloomed
The Druid glanced toward the sky
Toward eclipsing moons


He rushed forward, sword in hand
Hoping he wasn't too late
To slay the beast, to stop the birth
To choose the greater fate


The sword plunged deep into its chest
The ground had split apart
The Druid slowly backed away
His blade in the mighty beast's heart


In the sudden silence, the remaining men stood
None dared to take a breath
They watched in awe, in admiration
As the beast slowly met Death


With one last breath, the beast gave in
And looked toward the sky
Its final words to the Druid he spoke:
"Old foe, until next time."


A sudden wind blew away
All traces of that night
And Four of Forty walked away
To tell of their great fight.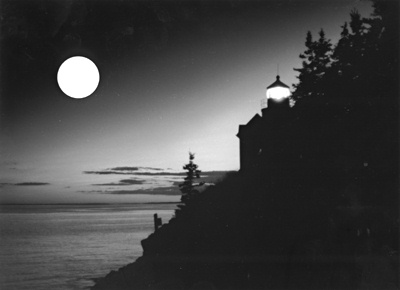 © Steve S., Marblehead, MA