Mirror
May 6, 2012
I came upon a man
Who was lying in the sand.
His eyes were tightly closed
And his hands were set in folds.
I looked upon him quietly and waited.
For a sound
A jolt
A voice
Elated.
But soon I found him not to be,
Sleeping?
No.
Dead was he.
.
I shut my eyes and wept
For this man I'd never met.
For somewhere out there waiting
A mother without her baby.
A child without his father
A wife without her lover.
So I reached into his pocket
And found a golden locket.
.
Two pictures inside were gleaming.
And I thought I must be dreaming.
A picture of him in one side
And the other,
I couldn't believe it.
For there frowning up at me
My own face was beaming.
.
I took a better look and still I couldn't see it.
This was no man id known
So down upon my lip I bit.
In confusion and in wonder
I set upon a plunder
Inside my mind
To try and find
An image but I blundered.
Not a recognizable face
Like any other of this race
Of this day
Of this age
On the papers every page.
I held my strong and steady gaze,
Looking at him
Was amazed
I realized without a doubt
I'd once saw this man
In the streets loud he'd shout,
And ask someone "Please!"
"One coin is all I need!"
"My wife is sick,
Someone please!
Food my baby daughter needs!"
.
And no one stopped.
No one looked.
They thought this man a lazy crook.
To stand around a forlorn stare
His hands chipped from the freezing air.
I turned to him
With a sad look
And realized I was the real crook.
I had a coin I did not need
But I was overtook by greed.
"Get a job!" I yelled at him.
"You lazy bum!" Someone agreed.
I felt the anger and regret come nearer,
And realized my 'picture' was just a mirror.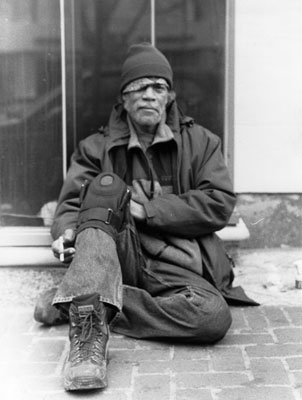 © Marie D., McLean, VA