Insulate, Isolate
April 29, 2012
From when he enters in
He is sorely oppressed
Forced to stay silent
And sit at his desk.

Ordered to take tests
Which he passes with ease,
But come snack time, the bully asks,
"Your lunch money, please?"

At twelve-noon exactly,
He consumes what's left with speed -
In his heart, no desire exists
To fill the Void of social needs.

In break at one-ten,
The student solemnly sits
Alone, so Alone,
Until 1:30 hits.

Back to fifth period
The boy's a bit late -
And the desks 'round the door
Form an impenetrable gate.

At the end of period Eight,
When the smug children rush out,
He lopes around the hallways
Free now to cry, sigh, and pout.

When he enters his home
Ah, what a glorious place!
The memories gained here
Bring new life to his face.

He breezes through his homework
Reminiscing about school,
Letting out sharp remarks like, "Ha!
I know intellectuals are cool."

All through the bright evening
His mood's uplifting and gay -
Other people don't see it, but it's true
He had a wonderful day.

And when he slithers into bed,
He retreats into his den;
And steels himself; body, mind, and soul
To boldly do it all again.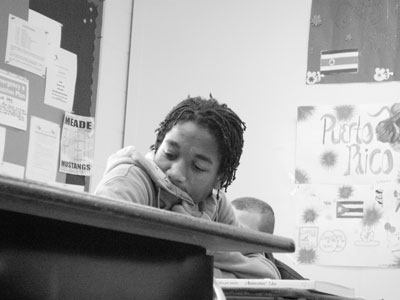 © Demetrius A., Ft. Meade, MD