The Last Flight
March 18, 2012
In the eerie darkness
Of the pitch black night
A silent happy bird
Takes his very last flight.

On and on he flies
Through the pitch black night
Thoroughly enjoying
His very last flight.


The little bird knows
That it's his time to go
While he flies overhead
Of the untouched snow.

Pure and still
In its lonely crest
Because it is now, of course,
When the city looks its best.

Into the ambush of color
And lights he flies
Over the busy city
To say his last goodbyes.

On a beautiful night, he thought,
Was this last flight taken
A last sight until the morning
Where he may not awaken.

He flies on and on
Until his wings grow tired
And stops at his favorite spot
On his favorite wire.

Looking into the night
Over this beautiful city
What a wonderful night he thought
To be so busy.

And as he closed his eyes, alone,
On that cool beautiful night
The last thing he thought about
Was his last wonderful flight.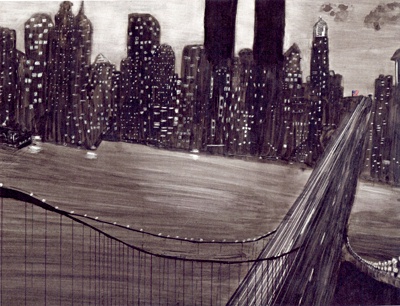 © Breanna Lea B., Richmond, VA