Matts Bat
February 7, 2012
Matt's Bat
In a small town in Alabama
There lived a kid named Matt.
Boy did he love baseball
But most of all he loved his bat.

With his bat he was righteous.
With it he was very smooth,
And almost every time
with one mighty move.

He poked the ball right out the field.
He ran around the bases.
Never looking back
while big grins were on faces.

The crack of the bat was like thunder.
It drove the crown wild
and half way through the game.
They were always screaming like a child.


Until one spring day
when he was up to bat.
He wound up ready to swing
and when he swung, there was a mighty crack.

After that the game went downhill.
Everyone was bawling
and for every game after that
his stats were always falling.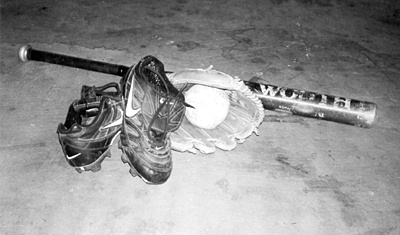 © Amber F., Phoenix, AZ