A Perfect Ballet
January 3, 2012
Sparks of emotion seize my control.
Focus and passion swallow me whole.
Begging for outlet deep in my soul,
I pick up the pen with only one goal.

Bubbling notions whirl in my mind.
I open my notebook and start to unwind.
I make sure my stanzas are fully aligned,
All hesitations, I leave them behind.

I grapple with phrases that sound somewhat greasy,
Avoiding clichés that always sound cheesy.
Choosing the diction never comes easy,
Because certain language makes me feel queasy.

It seems that my pen is floating away
Dancing the moves of a perfect ballet.
It's as if my pen knows just what to say.
Every order I give, it won't disobey.

When the movements finally come to a close,
I look at my work and make sure it flows.
Whether written in rhyme or even in prose,
It's not accomplished to me till I know that it glows.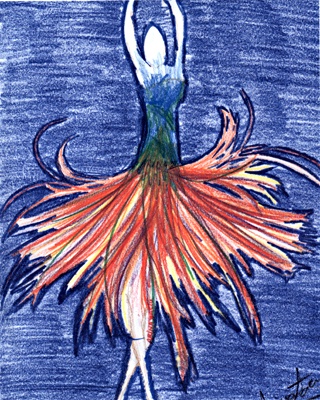 © Arina Z., Euclid, OH