Disowning Disapproval
December 9, 2011
Reach for the sun,
My father always said,
Don't ever fall to the ground;

So I climbed every tree,
Hiked over every mountain,
But the Sun, I never found.

Get off your knees, and
Run to the Heavens,
He would always say;

I ran to Church, and
Away from my sins,
But the Heavens eluded my way.

Swim to Atlantis,
Find the lost city
He muttered under his breath;

I swam for miles,
Dove to dark depths,
But discovered, there was nothing left.

He forgot my existence, and
Lost all faith,
From his mouth, there wasn't a sound;

He escaped my glances,
Never asked for a thing,
His love, was nowhere to be found.

And yet: I had reached for the Sun,
Chased after the Heavens,
Even searched for Atlantis.

I reached for his approval,
Chased after his affection,
And finally decided - F*** it.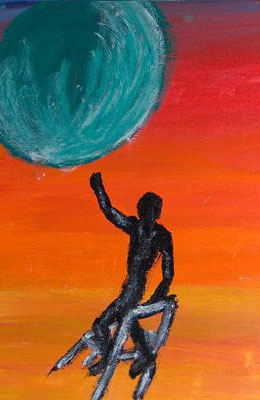 © Maegan F., Harrisburg, NC