A Loss May Turn Out To Be a Gain
September 26, 2011
When Genghis Khan led the Hu Ren,
High in the Northern grasslands,
The nomads collected horses
And rode hard in travelling bands.
 
In ancient Chinese dreaming,
The Han Dynasty led forth.
The people were all afraid of
The warriors to the North.
 
On the wide and sleepy border,
Lived SaiWen, a wise old man.
His farm at the end of the village
Had just one mare of red and tan.
 
One morning his mare ran away,
She galloped to the grassy plain
Leaving poor SaiWen all alone
While she shook her glossy mane.
 
All his neighbors came to his home,
Bringing comfort and heaving sighs.
SaiWen simply smiled saying,
"It is a blessing in disguise."
 
"He is too sad to understand."
All his friends and family said.
"It is no blessing to lose a mare.
He has definitely lost his head."
 
What a surprise to everyone
When three long, hard months later,
SaiWen's mare came prancing back
With four horses behind her.
 
All his neighbors were amazed.
"such a lucky man," they thought.
For his loss was not a loss,
But four more horses than he bought.
 
SaiWen's son loved to ride horses,
So he raced across the plain.
But the wild stallion bucked him.
Leaving him broken and in pain.
 
The neighbors returned to visit
With sympathy and tea.
"Your son's leg is broken
What a sincere tragedy"
 
"It is a blessing in disguise."
 Said SaiWen with a gentle smile.
"He really lost his mind." They said.
Shaking their heads all the while.
 
In SaiWen's sleepy village,
Peace was not to last for long.
The fires of war were flaming
The battlecries were made in song.
 
The Hu Ren swept over the border.
The Han called for soldiers to show.
The villages lost their men and boys.
But SaiWen's son didn't have to go.
 
And his neighbors were amazed.
"Such a lucky man." They said.
For his son's break was a lucky break.
He gets to stay home safe in bed.
 
SaiWen was a wise man.
Because he knew the great irony:
Who can tell if it's lucky or not
Well certainly not you or me.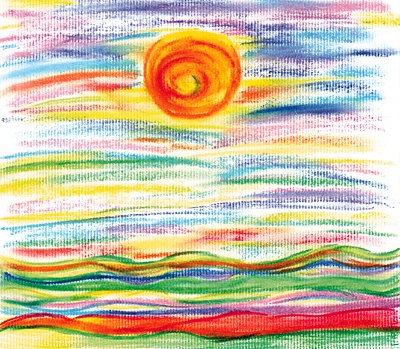 © Jennifer W., Saint Albans, WV