Fanaa- Destroyed in your Love
September 28, 2011
It was the classic tale of boy meets girl,
Only this time, there was a twist.
She was blind,
And he was a terrorist.

Rehan was to be their tour guide;
For they were to perform a dance on Independence Day.
But Zooni had no idea of what he was involved with,
Or the prices she would have to pay.

Then one day, he asked the question
"Will you marry me?"
And she smiled and said yes
The day of her eye surgery.

By planting a bomb at the place he was supposed to be,
Rehan faked his death
And Zooni swore she would never let anyone as close
as fragrance is to breath
Rehan had no idea that Zooni was carrying his child,
In fact, he would only realize this
When he showed up at her door, seven years later.
Half dead from battle, and coming to terms with all that he had missed.

Because Zooni had been blind when meeting Rehan,
She knew not of what he looked like.
She only knew that she would care for this stranger until he became well
But Rehan knew immediately that these next few weeks would be a treacherous hike.

He remembered her beauty, her charm, her wit
The way she moved and talked
And their son, Rehan Jr. looked just like him.
Even the way he walked.

Rehan's mission to blow up the cities in India would have to wait
Zooni needed her husband, and Rehan Jr. needed his father.
"But what am I to do?" he asked himself.
Every security service worldwide was after him, the"bomber".

Then one night, Zooni and Rehan happened to be alone in the kitchen
They danced to an old Indian song.
Suddenly, Zooni is flooded with memories.
His scent, his voice, it's the man she's missed for so long.


Rehan can't tell her anything,
But Zooni doesn't want him to leave her again.
They remarry, and then…
Zooni is once again tied by a chain.

When Rehan first showed up on her door, he had been on a mission.
And now, it is time for that mission to be carried out.
But this time, there is a higher price.
Rehan kills Zooni's father, because he had figured the puzzle out.

Zooni watches the news and begins to suspect Rehan as the "bomber".
She has a choice to make.
Give the trigger back, let him get the job done and live happily ever after,
Or be destroyed in love, their lives to take.

She steps forward.
"Zooni… it doesn't have to be like this."
She gives him the trigger.
He promises,"After this,We can live in eternal bliss"




BANG.
Zooni fires shots near Rehan as he walks away with the trigger.
Finally, she aims.
She shoots. Rehan dies with vigor.



Excerpt from song in Fanaa:
tu jo paas ho phir kya yeh jahaan
When you're with me, what use have I for the world?

tere pyaar mein ho jaayuun fanaa
May your love annihilate me.


?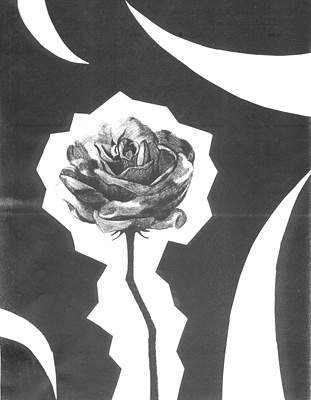 © Jeanette M., Phoenix, AZ