The Clever Dragon
September 1, 2011
There was a magical land, far, far away, complete with a castle that guarded the way.
Inside of this castle lived a beautiful queen, with only her children, so vile and mean.
The children grew tired of this far away land, and hurried to scurry out with their band.
Right out of the castle they were greeted with fear, 'twas none other than the dragon they hated so dear.
With the dragon they fought, tooth and tail, but for once, they thought, there was no avail.
They tried and they tried, with all of their might, but a fight with a dragon just isn't a fight.
At last they grew tired from their short-lived war, and the victorious dragon gave a loud, "Roar!"
"Seeing how you've lost and a pitiful loss at that, I must ask why you fought me, for that is a very foolish task."
"Well, you see Sir Dragon, this land is a bore, we've nothing to do and long for the shore"
"I see, I see," the great dragon said, and mumbled to himself, "At last, I'll be fed."
"I'm sorry Sir Dragon, but I couldn't quite hear you." He queerly smiled and replied, "I forgive you."
The beast thought for a while, then spoke again, "On your travels to the beach, I could save you a mile."
"Oh please Sir Dragon! Anything will do!" But he realized too late that the dragon meant-GULP.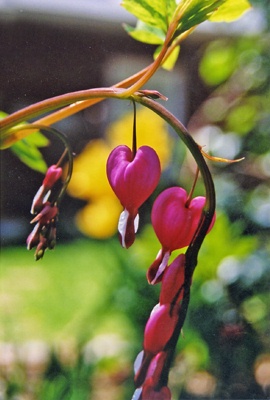 © Sophia E., Wilmington, DE