The Tarnished Armor
June 6, 2011
In a kingdom long ago,
a fair maiden roamed,
and loved a strange young man who came,
from a far off foreign home.

This strange young man wore gleaming armor,
of splendid silver metal,
that glowed and sparkled, yet was devoid,
of any signs of battle.

In that same town there also lived,
a knave of smallish station,
who owned and wore his tarnished armor,
which was of his own creation.

Every day he watched the maiden,
walk with head held high.
He wanted to confess his love,
but the other was always nigh.

And so one day, next to the fountain,
he cried with utter despair;
the saddest sound that was ever heard,
in the quiet kingdom's square.

Then from the sky there issued forth,
a roar echoing loud and clear.
It sent chills down every spine,
and paralyzed with fear.

The great dragon darted and slashed:
It tore with its razor claws.
The fire and brimstone rained from above
out of his smoking jaws.

Through the chaos, destruction, and noise,
"For Alexandria!" came the cry.
It rang with a voice that, for its kingdom,
was prepared to die.

It came not from the Silver One,
huddling behind a farmer.
It came from the knave, with sword and shield,
clothed in his tarnished armor.

He charged and struck with dizzying speed,
and soon the dragon swooned.
Then suddenly, the pair both fell,
each from a mortal wound.

The knave died not with jealousy,
but love in his broken heart.
With his dying breath he whispered,
"Now we'll never be apart."

And as they brought his body back,
the wind blew bitter cold:
For as the maiden wept she saw,
His armor was made of gold.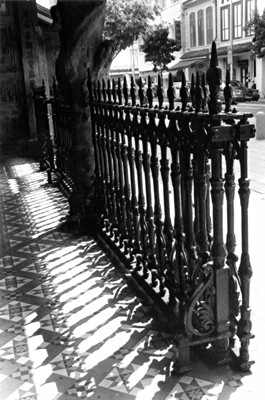 © Gretchen L., Edina, MN