Crimson Red
May 17, 2011
Crimson red, that's the color of my heart
Brighter than light
That's the showing of my soul
My love bore pain
I fight to go on
Yet I can't stop the pain
My thoughts are excruciating
I was told love is true
A one that don't boast
I found that they are right
But why am I about to burst?
And then I figured it out
Through my head that was filled with doubt
This is worldly love
I say this without a doubt
True love comes from God
A love that's so strong
His love cannot be defeated
Even as the years go on
We say it's because I loved, is why I hurt
Never understanding true love doesn't cause hurt
In fact we haven't met true love
We're a million miles apart
And if you where to meet true love
His love would swallow your heart
It wouldn't be a type of love where you would have to stalk
For you can't be apart
But it will be the love where it's like air,
You can't breathe when they are not there
No wonder they say no one can ever understand love
For how can you understand something you never knew of?
A love that's so strong,
that you will need God to weld it
Real love is the strongest bond
It can destroy the very hate we know
So if we knew this love
what will become of me and you?
Enemies that become friends?
And a world of peace?
But crimson is the color that paints the world
Until we meet the man upstairs
We will see what true love is when he stares
For a love that is so strong
I bet its seeable too,
Like that bright light the color of my soul
And then I figured it out,
True love is when you love with your very being
Your very self
And most of all
Your very soul.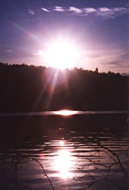 © Laurie T., Hopkinton, MA