who am i
April 15, 2011
he sees grown men crying
all surrounded by hell
when it will be over
none can tell
death and destruction
he looks around as people fall
"i wish i could end it" he screams
"once and for all"
his wife and kids back at home
looking out the window watching, waiting for his return
day after day
letting there thoughts churn
he closes his eyes and sees them crying
he prays "please god end this now!"
he I'magines hI'mself home wishing
praying it will end somehow
he screams ever so softly "i wanna go home"
the thoughts in his head go blank. nothing.
he falls to his knees everything fading.
as he begins slowly, dieing.
his eyes snap open,
as if from a deep sleep
he feels as if hes starving,
but doesn't need to eat.
he takes a look around
and sees hes on a plane
and in the center
a casket with no name
he stands up tall and proud
to solute this fallen soldier
then thinks to hI'm self
nothing makes sense i feel somehow...older.
"I'm going home" he tells hI'm self "to see my family" he opens the casket in awe he was the fallen soldier that did fall
trying to scream but everything went dI'm all that comes out is a whisper "i don't know who i am"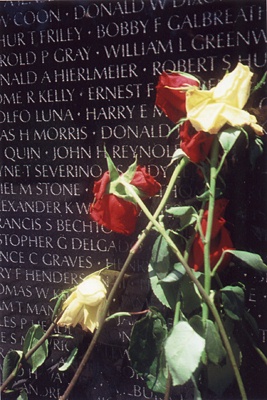 © Justin R., Angola, IN