The Heart
January 14, 2011
Buried deep inside with all the noise and tears above,
Alone it tends its wounds and wishes it were loved.
Blows of hate and guilt are poured upon the soul,
And all the pain goes to the heart, hidden deep within a hole.
Here inside this hole lives a very battered heart,
Filled with countless wounds, made from countless thoughts.
These wounding thoughts consist of a very simple thing:
This heart knew it lacked of beauty to set before her King.
And without a King to love her, this heart had little worth
But little known to her was that her King came on this earth.
He lived a simple life, with a sacrifice not dearth.
Of love, he died a brutal death, Body laid within the earth.
But a tomb held not his glory, rest'd not long within the ground,
For he rose again to make her new, without a blemish found.
He wiped away her sorrows; he dried up every tear,
He told her of her beauty, only he could see and hear.
This heart now soft and lovely is filled with joy and mirth,
Because her savior's life and death is ample witness of her worth.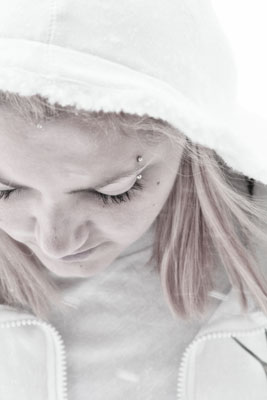 © Jessica F., Bradford, MA