The River Between Two Shores
January 19, 2011
I stand upon the banks of this wretched land,
The ever flowing water cooling the desert sand.
For far too long, I have lived here in solitude.
I can no longer stand the pain of this magnitude.

Across the river, on the other side,
Is a place that I could forever, peacefully abide.
With lush greenery, and that mighty oak tree,
There is life all around it as far as the eye can see.

But alas, reality brings down its wrath upon me,
And a mighty river separates me from unending glee.
No bridge exists over its merciless flow,
And to swim across is the only way to go.

But a fool's errand is such a thing!
For me and my body is all I can bring!
The risk is too great for me to try,
For if I am swept away, then I will surely die.

But behold, the bliss across from me,
Imagine, unending joy and extravagant glee.
So at least once, I must try,
Though if I fail, I may die.

And so I leapt into the raging stream,
And things were much worse than what it would seem.
Down the river, it carried me,
Giving me pain and sorrow, rather than infinite glee.

For ages it swept me down its path,
Until another island ended my horrific bath.
And behold! All that now stood before me,
Was lush greenery as far as the eye could see!

Much greater was this island than the other one,
It now seemed that despite that suffering, I finally won.
Its glory was beyond what I could believe,
And so I lived on Eden, along with my Eve.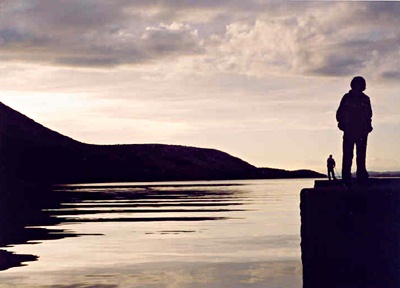 © Julia K., Nagykovacsi, Hungary