Dreams
December 8, 2010
I dream about you
Every single night.
I've said I love you.
We've never had a fight.

At least that's what I dream.
But all of it I mean.
What am I to do
To make this all come true?

What would you--
No, it's to crazy.
But just maybe…
But what would I do?

As you walk by
You fill me with butterflies.
You make me feel as if I could fly.
You make me forget about the lies.

If we could be together
Just me and you forever.
Here's an idea: lets move to Spain
To escape from all this pain.

We'll always say I love you.
We will never fight…
Okay we might.
But I'll always be true to you.

Dreams
I wish this all could be real life.
Me and you forever.
You'd be the husband and I'd be the wife
No, probably never.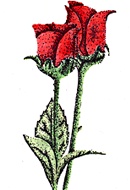 © Sarah M., Phoenix, AZ