Me: Fourteen&Up
December 9, 2010
Me: Fourteen & Up
Fourteen by time I started in high school,
Everybody was on my case.
Telling me it could make me
Or it could just break my face.

At the age of fifteen,
By the end of the year I had a little less stress.
Before it was horrible,
It felt a lot like I was pressed.

Then came sixteen,
I got hit with all kinds of pressure.
Like where should I go? What should I do?
And how can I even get there?

Now I'm seventeen,
And I'm stuck in a rut, not knowing what to do.
Feels like I got caught in a pot,
In a pool of uncertainty stew.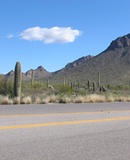 © Aleksandra K., Tucson, AZ