Man in the Moon
September 18, 2010
Man in the Moon

I fell in love with the Man in the Moon
And all he had to offer
The silver luminous rays that came
Out the tips of his fingers
His eyes were pale like dandelion's age
And his skin was milky white
An angular frame like a toothpick
Concealed by Night

And how Night was to him
Like toys to children's play!
Dancing around at his slightest touch or
Howling held it at bay.
The silky soft velvet cape that was
Draped around his figure
A smooth and seamless fabric
With silent sustained vigor

So as night was pet to him
The Moon was like his mother
A mast on his silver sailboat
Protecting her passenger
And he sailed, that Man in the Moon,
Through outraged ocean's anger
Riding the waves of children's dreams
Swallowing reason's danger

So it came my time to board
This man's midnight vessel
An icy smile on his pallid face
And I a morsel to be swallowed
But I climbed aboard without a look back
Eyes reflecting mirrors
Of a hope's dancing flame
Vibrant and eager

I rode on the high-flying waters
And I tore through the jungle leaves
Crashed and tumbled down the road
Until I was deceived
The silver man left me
On a piece of old driftwood
In despair and left amongst
The wandering of Night's rogues

So I tried to swim until I collapsed
After that glowing boat
To seek once more that vagabond
That kept belief afloat
But my fingers never could stop
From slipping away from his
Like oil on a quiet street
Running with tainted color

But what can I say for it was all
Just a plan to fall and swoon into
The delicate arms of the man in that silver moon

Ah, yes I would give anything to reach that Man in the Moon!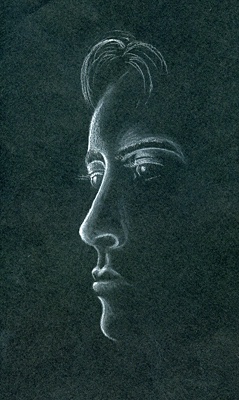 © Carlos S., Glendale, AZ