Your Twin Angel
August 31, 2010
I used to dream of love,
I used to dream of hope.
I used to dream of having problems
with which I could cope.

I used to dream of dancing,
I used to dream of flying.
I used to dream of looking,
Into your eyes and sighing.

Now I dream of the time when we stood by the ocean,
Away from the burdens of society's commotion.
In this dream you kiss me,
But then you push me away to set me free.

In this dream I jolt awake in bed,
To find you gone leaving me alone instead.
I realize in that dream you put something in my hand,
To remind me of you in that heavenly land.

I look down at the card in my palm,
What it was made me go very calm.
It was a simple hologram of you,
And memories flood back from what we've been through.

I turned the card and saw another girl,
And who it was made my stomach twirl.
I'd been in love with her while I was awake,
Then a realization hit me that made my body shake.

You two were the same and one,
The card was to show me our love story wasn't done.
I remembered the words you said,
Before you sent my spirit back to the body laying in my bed.

"I'll always be with you,
My broken angel.
For with her rests a similar image of me,
But the resemblance only you can see.

You nobly chose to take that human form,
So into it you were reborn.
In your dreams we can still be together,
But on the earth she will help you endeavor."

You smile and slip the card in my hand as a tear falls to the ground.
You kiss me and my heart begins to pound.
Before you pushed me to the bed where I would lay,
Those nineteen deadly words you were able to say.

"But be warned,
She is not me.
She will break your heart,
And throw the pieces out to sea."

And with that the memory came to an end,
But with me where did my vision decide to send?
To an image of you, my painful love,
Asleep like a dark eyed black haired dove.

That was the end of my dream of a dream.
It showed me that not all things were as the seemed.
I wish I had the hologram now,
It would show me there was hope for love someway, somehow.

Everyday your blonde blue eyed twin angel's warning carries through.
But about it I'm not sure quite what to do.
It leaves me with a mystery beyond what I can redeem,
All I know now is that I dream of things that aren't as they seem.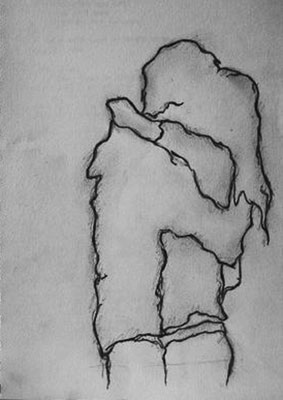 © Nicole B., Newcastle, WA